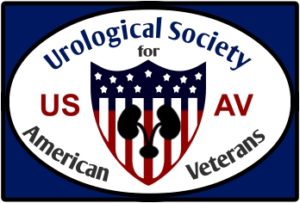 Urological Society for
American Veterans
Welcome VA Colleagues
Urological Society for American Veterans
Information & Announcements
USAV 2020 ANNUAL MEETING RESCHEDULED
Now taking place during SGSU 2021 Meeting
Sunday, January 24, 2021
The USAV 2020 Meeting that was to take place in Washington, DC on May 17 has been rescheduled to take place during the 2021 SGSU meeting in Palm Springs/Rancho Mirage to be held Jan. 20-24. Plan to attend either the entire meeting or just the USAV portion.
Sunday, January 24, 2021  · 8:00am to 12:30pm
Westin MIssion Hills Rancho Mirage, CA

  2019 USAV Meeting Summary - Success in Chicago! 
Thank you to our Members, Industry partners, our Allied Colleagues and all VA urologists who attended the 2019 USAV Annual Meeting!
Genomic Health
Cook
Karl Storz
Photocure
Myriad
Pfizer
Pacific Edge
USAV 2019 an exciting program with over 90 in attendance,
featuring:
Great guest speakers from our partner organization SGSU (Society of Government Service Urologists)

Highly relevant sponsored presentations

Excellent abstract presentations from VA's around the country

Poster session with abstracts

Informative business meeting for USAV members


Relevant exhibits and industry education

Collegiality & time to network and get involved with USAV

USAV Mission Statement
The mission of the Urological Society for American Veterans (USAV) is to optimize the genitourinary care of the American veteran via scientific discussion, education, and fellowship with all government-service urologic providers. The USAV hosts a VA Forum on a yearly rotating basis on Sunday afternoon at the AUA meeting to discuss topics relevant to urologic diseases in American veterans and the coordination and optimization of their care, in addition to addressing specific needs of federal-service urologists, practice management and post-service related conditions in veteran health care facilities. This meeting provides a forum for VA urologists and allied health GU providers to discuss all elements of concern to urological government health care. The USAV is not an official government sanctioned or funded organization.