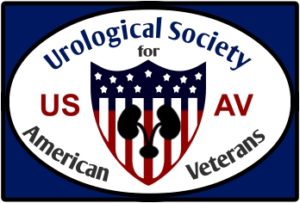 Urological Society for
American Veterans
2023 USAV Annual Meeting (during the AUA Annual Meeting)
Chicago  - Sunday, April 30, 10:30am to 2:30pm

Hyatt Regency McCormick Place - Regency Ballroom CDE
2023 Program Highlights:
Pathways to fund your research at VA

Theranostics in Prostate Cancer

Establishing Male Infertility  Program in VA: tips and tricks

Disposable ureteroscopes: Are they worth it?

Lunch Included - must RSVP for ticket

USAV MEETING CHICAGO - DETAILED SCHEDULE  (REV MAR 1, 2023)
Sunday, April 30, 2023, 10:00 AM - 2:30 PM
Hyatt Regency McCormick Place
Regency Ballroom CDE
TIME
PRESENTATION
SPEAKER
10:00 AM
Check-in / Exhibit set up / Network with Physicians
10:30 AM
Welcome / USAV Update
Robert L. Grubb III, MD, President, Medical University of South Carolina, Ralph H. Johnson VA Medical Center    /             Abhinav Sidana, MD, Scientific Program Chair, University of Cincinnati College of Medicine
10:35 AM
Pathways to fund your research in the Veterans Health Administration.
Ted Skolarus, MD, MPH, FACS,
University of Chicago, VA Ann Arbor Healthcare System
10:55 AM
Establishing Male Infertility  Program in VA: tips and tricks.
Sarah C. Krzastek, MD, Central Virginia VA Health Care System
11:15 AM
Disposable ureteroscopes: Are they worth it?
Bodo E. Knudsen, MD, Ohio State Univ. Wexner Med. Ctr.
11:35 AM
Sponsor highlights (1 slide each)
11:45 AM
Lunch Break /review Posters/ Visit Exhibits
PAPER ID#
Viewing of Unmoderated Posters
Moderator: Sudhir Isharwal, MD
#06
Postoperative PSA testing after radical prostatectomy: when should the initial PSA be obtained?
Emily Fisher, (3rd year Med. Student)
#07
Examining the Utility of an Exosome-Based Urine Test in Prostate Cancer Screening in a Veteran Population.
Sarah C. Krzastek, MD
#08
Physical Activity, Frailty, and Functional Outcomes in Men undergoing Androgen Deprivation Therapy.
Aubrey K. Jarman, BS, RD
#09
Management of Patients that do not Achieve an Undetectable PSA After Prostatectomy.
Dennis Boynton, BS
#10
Race, geography, and prostate cancer outcomes in patients treated in the VA Health Care System.
Ivy T. Liu BS
#11
Using the Femoral Head Size to Determine Prostate Volume from Cross-sectional Imaging.
Samuel J. Han
#12
The association between C-reactive protein levels and prostate cancer recurrence in nonmetastatic radical prostatectomy patients.
Ieva Juzumaite, BA
#13
Negative PSA Velocity and Its Impact on Patients With Elevated PSA.
Alexander H. Fang, BS
#14
Preferences for interventions to address unmet sexual health information and support needs among female partners of men with prostate cancer.
Natasha Gupta, MD
#15
The histopathological basis of false positive PI-RADS 4/5 lesions.
Nilesh Patil, MD
#16
Do Hispanic Puerto Rican men have worse outcomes after radical prostatectomy? Results from Shared Equal Access Regional Cancer Hospital (SEARCH).
Lourdes Guerrios-Rivera, MD
#18
Extreme-Low-Dose (XLD) Intraoperative CT scan (ICT) (<0.5 mSv) Achieved During Percutaneous Stone Treatments using a Robotic Multiplanar Fluoroscopy Systems (RMPFS)
Brett M. Wiesen, MD
12:55 PM
Industry Supported Talk during Lunch - TBD
1:15 PM
Podium Presentations - 4 min each / 5 slides
Moderator: Thomas A. Masterson, MD
PAPER ID#
TITLE
PRESENTER
#01
Survival Comparison of Inflatable Penile Prosthesis Placement at a Veterans Affairs Medical Center Compared to A Tertiary Referral Center.
Parth Thakker, MD
#02
Variances in pathologic findings at biopsy in equal access Veteran's Administration Hospital following the 2018 USPSTF PSA screening recommendations.
Karl-Ray O. Jeune, BA
#03
Prostate Biopsy Sepsis Prevention: External Validation of an Isopropyl Alcohol Needle
Washing Protocol.
Anthony Hiffa, MD, MPH
#04
Representation Matters for Black Patients with Prostate Cancer: Qualitative Study of Digital Information.
Stacy Loeb, MD, MSc, PhD
#05
Accurate Documentation Contributes to Guideline Concordant Surveillance of Non-Muscle Invasive Bladder Cancer: a Multi-site VA Study.
Vikram Lyall, MD
#17
Changes in Serial Decipher Genomic Classifier Testing Among Patients with Prostate Cancer Managed with Active Surveillance.
Ghazal Khajir, MD
1:50 PM
Active Surveillance 2.0: Impact of MRI and biomarkers on surveillance strategy.
Stacy Loeb, MD, MSc, PhD, NYU Lagone Health and Manhattan Veterans Affairs
2:10 PM
NSO Update.
Jeremy Shelton, MD
2:15 PM
Awards / Prize Drawings
Abhinav Sidana, MD / Robert Grubb, MD
2:30 PM
End of Meeting
We gratefully acknowledge these exhibiting companies for supporting our 2022 meeting!
PLATINUM SUPPORTERS: EXACT SCIENCES • PROCEPT BIOROBOTICS
GOLD SUPPORTERS:  EXOSOME DIAGNOSTICS • GUERBET •  KARL STORZ ENDOSCOPY
SILVER SUPPORTERS:  DECIPHER UROLOGIC CANCERS •  BK MEDICAL • PACIFIC EDGE DIAGNOSTICS • PHOTOCURE • LANTHEUS •  TELEFLEX .....................................SONABLATE CORP  •  WELLSPECT HEALTHCARE