Special Virtual Program - 8.5 CME
Live Streaming - Jan 23/24, 2021
L.A. Pacific Time Zone


Fees waived - Register Today!



A 2 day special virtual program has been created to replace our Kimbrough 2021 Meeting that was to be held in Palm Springs. The live stream virtual dates are January 23-24, 2021. The free virtual program will be accessible when you register with the Whova App to get access!

Check-out all the details and Register Now - click here


Our Mission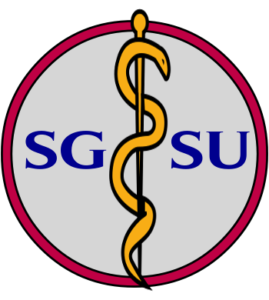 The mission of the Society of Government Service Urologists is to represent and educate Urologists and urology professionals active in government service. The SGSU hosts the annual James C. Kimbrough Urological Seminar on a yearly rotating basis and provides a comprehensive update on the full spectrum of urologic diseases, in addition to addressing specific needs of government service urologists, including care of combat-related injuries and practice management in federal health facilities. This meeting offers state-of-the-art lectures, posters, panels, discussions, mock oral boards and residents competitions. The SGSU is not an official government sanctioned or funded organization. Our Federal TIN is 74-1873489.
Group photo at 2020 Kimbrough Meeting in Charlotte, NC

Congratulations Team Charlotte!
Receiving plaques of recognition and excellence:
President, Dr. Debora Moore flanked by Course Directors:
Dr. Chris Allam (L) and Dr. George Kallingal (R)
Membership in SGSU? Yes, it makes a difference.



Join with one of urology's greatest traditions...align yourself with excellence!
Benefits to membership include:
BEING AFFILIATED WITH A VERY SPECIAL GROUP OF PEOPLE
NETWORKING & PARTICIPATION AT THE KIMBROUGH UROLOGICAL SEMINAR


SPECIALIZED CME/TRAINING FROM EXPERTS IN YOUR FIELD

MOCK ORAL BOARDS - FREE

PRESTIGIOUS AWARD OPPORTUNITIES


JOB OPPORTUNITIES

CAREER BUILDING CONNECTIONS

LEADERSHIP OPPORTUNITIES




ADVOCACY & REPRESENTATION

RECOGNITION IN PUBLICATIONS

MEMBERSHIP CERTIFICATE & PIN
SGSU News & Bulletins - at a glance