SGSU membership drive gathers steam at AUA Orlando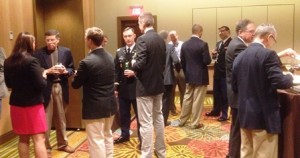 In an effort to welcome and reach out to new members from all aspects of government healthcare, the SGSU hosted a get acquainted reception during the AUA meeting in Orlando, Florida on May 18.  About 30 current and prospective members attended the gathering.
The SGSU was well represented in Orlando with an attractive and informative booth in the exhibit hall to promote both the organization and the 2015 Kimbrough meeting.